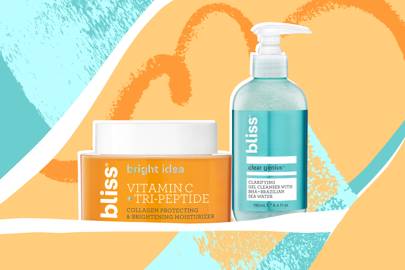 We'll admit, we're skin care connoisseurs, nothing makes us excited than discovering a new skin care brand or ingredient that actually works – things we badly want to share with you. Even better if you don't have to search random websites to track them down or pay outrageous international shipping costs to get your hands on them.
You know our good friend Boots, the Queen of the British High Street? The one who went through panicked hand gel purchases (ta for it, Covid) and mini deodorant / dry shampoo / tampon gear strokes from us before vacation (let's hope these return soon). Well, you probably knew that they've been seriously pulling it out of their pockets lately when it comes to selling some iconic brands in-store and online (including Fenty Beauty and The Ordinary) – and things have stepped up again , Thanks to a whole range of affordable, high-performance skin care products this month. Do you want the juicy information? Here are the ones to look out for …
Glow Hub
We love this Gen Z skincare brand that launched last summer and has just arrived at Boots – in stores and online. It's like the love child of Glossier and Milk Makeup, a shelfie-worthy competitor who takes a pick-and-mix approach to skin care problems with multitasking ingredients and Instagrammable packaging.
Every Glow Hub product is dermatologically tested, vegan and cruelty free. Best of all, they're also a mega-wallet-friendly skincare brand, with products ranging from £ 6-12. There are three core collections to choose from. Soothe and calm, cleanse and brighten, and nourish and hydrate (as well as staples suitable for any skin routine).
Our favorites include the Glow Hub Zit Zap Wall Spot Treatment (£ 6), one of the brand's bestsellers that's already proving to be a hit with boat buyers for being filled with pinpoint BHA salicylic acid to help fight inflammation and constipation is pores as well as soothing tea tree oil. One reviewer on Boots website said the rollerball treatment "works wonders" while another wrote, "I used it on areas on my face and neck and they went down significantly after 24 hours."
We're also big fans of the Glow Hub Purify & Brighten Super Serum (£ 12), a highly charged brightening serum that contains exfoliating salicylic acid and detoxifying black tea extract, plus antioxidant-rich blueberries and soothing white willow bark. A recent Boots reviewer said the product "made my skin visibly more radiant!" while another added, "I've definitely noticed a difference in my skin since using this – it's a lot lighter and I've seen a reduction in breakouts."
bliss
While we've long been fans of the US wellness brand Bliss, sourcing their products in the UK has been quite difficult in the past. Well, it has been so until now. Fortunately, Bliss has just landed on Boots, in-store and online, and has given all of us the opportunity to enjoy their wonderfully hard-working but pampering treatments – exactly what we need right now.
Here's the USP: every Bliss product is cruelty free and contains no parabens or SLS which is always a huge hurray for us. One of our top offers is the Bliss Clear Genius Clarifying Gel Cleanser (€ 9.99), which we can only describe as a bottle-calming, super-calming, super-gentle facial treatment that gives the skin an urgently needed restart thanks to pore-capping salicylic acid and Brazilian seawater that is used for Contributes to detoxification and calming.
We're also advocating the newly launched Bliss Bright Idea Vitamin C + Tri-Peptide Moisturizer (£ 19.99), which delivers a high-dose, but non-irritating form of vitamin C exactly where your skin needs it most . plump, brightening and moisturizing while it goes, leaving you with the most incredible shine. Other key ingredients include green tea extract, which protects against free radical damage, and a plant-based carbohydrate complex that binds to the skin and provides super deep moisture.
Skin proud
You may have heard of Skin Proud, which launched last April and quickly became the top of the skin care list of all Gen Z beauty lovers. For the first 24 hours of its debut, one product was sold every seven minutes. Of course we're so excited that this wonderfully insta-worthy brand has now landed in the store and online at Boots. It's about cutting out the skincare kerfuffle, with a no-nonsense, transparent, and effective set of skincare wonders that are 100% vegan and affordable, with items ranging from £ 7.95 to £ 14.95.
One of the highlights of the collection is the Skin Proud Sorbet Skin Everyday Jelly Moisturizer (£ 13.95), a powerful face cream that delivers a punch in hydration thanks to its four-part hyaluronic acid complex, which soaks the skin in a light oil-free gel Face can't help but drink immediately. One Boots reviewer wrote, "It feels like a marshmallow is being rubbed on my face. This makes my skin feel so soft in the morning and works very well under makeup. "
The Skin Proud Recharge Serum (£ 13.95) is another Shout-About-It product in the collection that you might want to try. This lightweight 0.5% retinol serum with hyaluronic acid and rosehip oil can work at night while you are dreaming. It helps smooth the skin and promote cell renewal, so you literally wake up with a glowing face. One Boots reviewer wrote, "It's absolutely one of the best facial serums I've used in a very, very long time. My facial imperfections have been significantly reduced and my skin is so, so soft, much lighter and the dark circles in my eyes have lightened a lot. "
Do you need more temptations to shop? We didn't think so.
Go to Boots.com and buy the Glow Hub, Bliss and Skin Proud collections now.