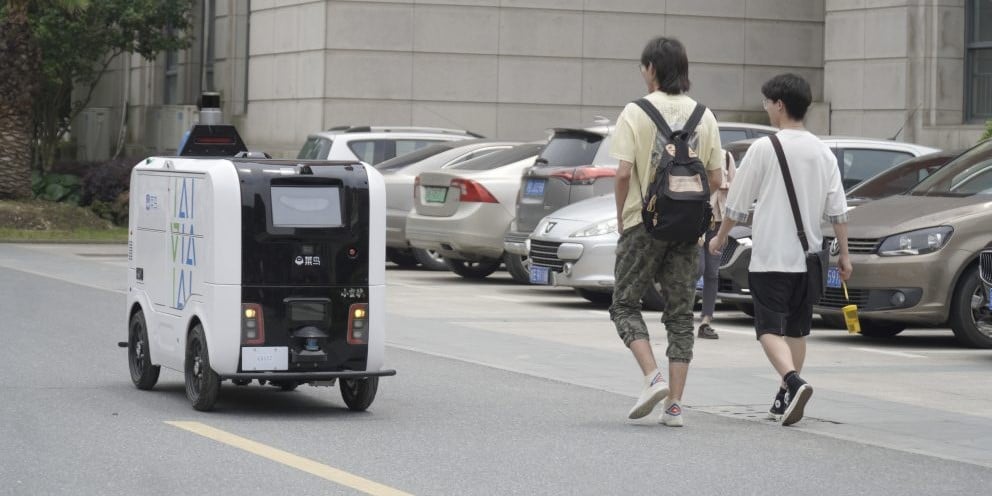 Alibaba has revealed a reason for deploying 1000 rolling delivery robots across China: They won't quit smoking.
"Delivery over the last mile has always been the tricky problem of e-commerce," says a post by the Chinese web giant. "It's expensive, time-consuming and, for the most part, not mapped.
"This final stage in a journey from manufacturer to buyer can be confusing for human couriers. Delivery men can get lost looking for an apartment in a high-rise or large housing estate."
The article vaguely points to technologies that will allow delivery bots to navigate such places more efficiently than humans, and claims "Alibaba's robots will be able to make the journey without detours or smoking breaks."
Over 300 million Chinese smoke, most of them men.
An Alibaba parcel delivery robot. click to enlarge
Alibaba's bots pick up parcels at a local drop-off point and then use footpaths and bike paths to reach their destination.
The company says its bots can predict the next five to ten seconds of the movement of nearby people and vehicles and use that analysis to avoid collisions 99.9999 percent of the time.
Still, Alibaba chose university campuses and housing developments as test environments because they have less traffic and slower vehicles than other locations.
Alibaba says its interest in robotic couriers isn't just a techno fetish – China's aging population means the company fears it will be difficult to hire enough delivery drivers.
The non-smoking campus tests are therefore intended to refine algorithms for wider use. ®